"I had to look at my wife and tell her, they just took our home."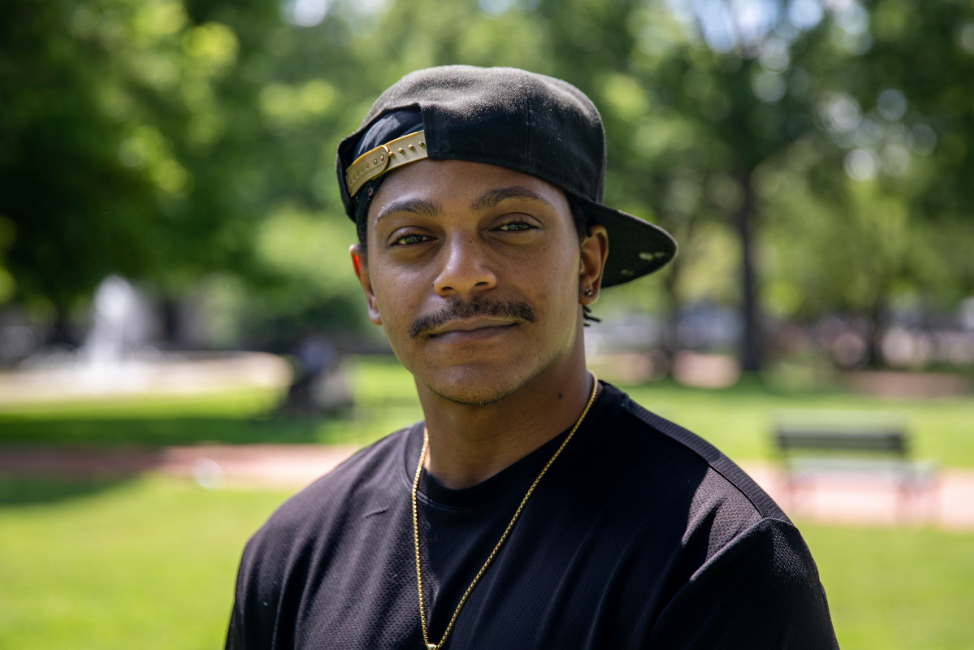 Kendrick Harrison, Argosy University in Las Vegas, Nevada
It was a Monday, Kendrick Harrison remembers. Kendrick—a disabled combat veteran who served more than 16 months in Iraq—opened his front door to find the eviction notice. In that moment Kendrick grasped the depths of the damage Argosy University had done to the life he was building for himself and his family.
Kendrick grew up in Oakland, California. The son of a single mother, Kendrick was a high school All-American athlete who received scholarship offers to play football in college. But Kendrick felt a higher calling and decided to enlist in the Army after finishing high school. He promised himself and his family that he would go to college after serving.
The terrorist attacks of September 11, 2001 struck less than a week before Kendrick was scheduled to ship out. He remembers his mother waking him to the sight of the towers falling on TV and feeling even more committed to serving his country.
Kendrick served overseas in Korea and then was deployed to Iraq during the invasion. After a mortar attack left him physically disabled, Kendrick was honorably discharged from the Army. Back in the United States, he got married, raised his family, and worked to support them. But Kendrick still dreamed of going to college and fulfilling the promise he made before enlisting.
By 2016, Kendrick and his wife had started a non-profit in Las Vegas, Nevada, running sports programs for disadvantaged youth. It was the perfect time to go to back to school and earn a business degree to help him better manage the budding organization.
One day, Kendrick went online and typed in "low-cost colleges" on Google and was immediately flooded with advertisements and links for Argosy University, a for-profit college. The school was advertising tuition assistance and flexible online class scheduling. To Kendrick, a busy father of six children, that sounded like a dream come true.
Kendrick gave Argosy his contact information, and in just a few hours he was on the phone with a recruiter from the school. "The minute they saw that I had all my military benefits and hadn't attended college before, they got even more excited," Kendrick told Student Defense. "They would call and email me all the time."
The aggressive sales pitch and some troubling online reviews gave Kendrick pause, but the recruiter quickly dismissed them. Kendrick was making the right decision for his family, she promised. "She was very encouraging," Kendrick says, recalling how often the recruiter would bring up his family during their phone conversations.
Kendrick discusses the negative reviews he found online and raising it with his recruiter:
Eventually Argosy's hard sell worked. The school promised him a student veteran tuition discount and convinced him to stop working so he could attend school full-time. His financial aid and G.I. Bill benefits would not only cover his tuition, but also provide a stipend to help cover living expenses, they promised. "It was all inclusive and they were helping me every step of the way. It all happened so quickly," Kendrick explained. He signed up.
Kendrick enrolled in good faith:
To Kendrick, being a college student felt like he was "on the road to success."
"I was finally following my dream of going to college, and it was powerful being an example for my kids," Kendrick says. Once classes started, though, so did the problems with the stipend Argosy had promised. The first late stipend came just two months into the school year. By that point, Kendrick had stopped working. The stipend was supposed to cover his family's living expenses. By 2017, the stipend delays—sometimes lasting more than a month—were frequent. Each time Kendrick would contact school officials, and each time they would promise to fix the problem, only for it to return.
Eventually Kendrick escalated the issue to Argosy's senior leaders and even threatened to involve the V.A. That seemed to work. For a year, Kendrick's stipend arrived on time. Until it didn't—with life-altering consequences.
At the end of 2018, Kendrick and his wife were preparing to pay their bills when his stipend didn't arrive. The school offered plausible excuses. It would be two weeks, they promised. Then another two weeks. Kendrick and his wife arranged for extra time to pay their creditors and landlord.
But by early February, Kendrick and his wife knew something was wrong. Kendrick called Argosy again. This time, a school official explained that Argosy was now in a court-appointed receivership. Kendrick would need to ask the receiver to release his funds. Kendrick remembers rushing to research online how receivership works. When he learned it was akin to bankruptcy, "[his] heart sunk."
The receiver told Kendrick they were working around the clock to resolve his issue. But everything came crashing down at the end of February. Still without his stipend, Kendrick received an email from the receiver announcing that Argosy and its parent company, the Dream Center, had mismanaged over $13 million in student funds and were unable to locate the money. "That was the nail in the coffin. That was our eviction."
By that point, it was too late for Kendrick to buy more time on his past-due rent. On March 8th, 2019, Argosy University was officially shut down. A few days later, Kendrick found the eviction notice on his front door. He was one semester away from graduating.
Kendrick recalling the day of his family's eviction hearing:
"[Argosy] put me and my family in a situation that no family should be put into. No family should suffer that fate. No student. No soldier. No one," Kendrick explained. "My family was robbed. How brazen do you have to be to steal from anyone, let alone students?"
Kendrick, his wife, and their six children moved out of their home and into a motel until they finally found a small apartment they could afford. Kendrick was able to transfer some of his credits to the University of Nevada, Las Vegas where he is working to finish his degree and rebuild the life his family once had.
Thousands of former students are now suing Argosy University's parent company, The Dream Center, and the U.S. Department of Education for the for-profit's mismanagement of federal financial aid funds and the sudden closures of campuses across the United States.
Kendrick Harrison is a client of Student Defense. You can read about our ongoing litigation here.