"I feel like I went through a shredding machine."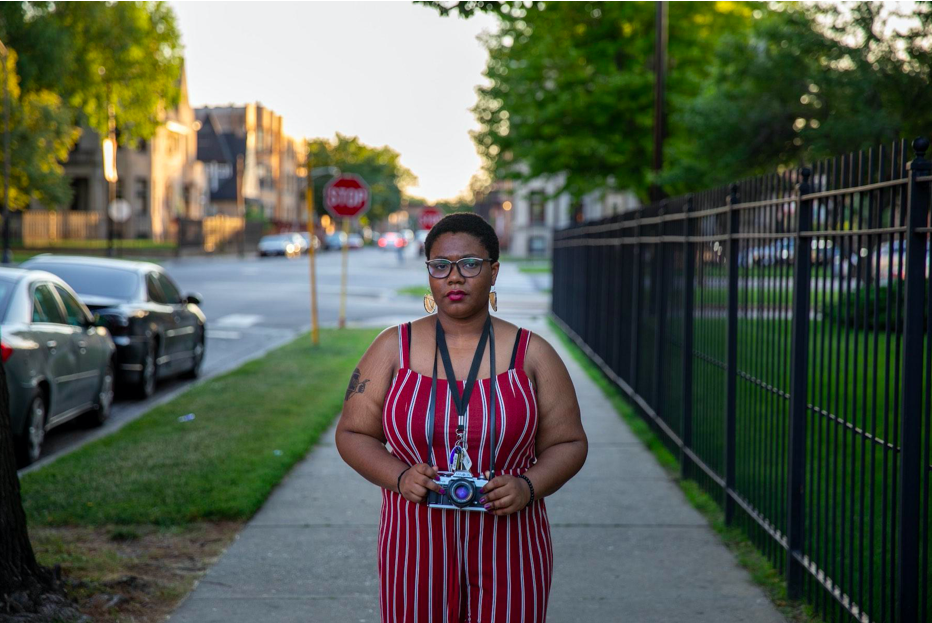 LaKesha Howard-Williams, The Illinois Institute of Art in Chicago, Illinois
LaKesha Howard-Williams was a straight-A student in high school and dreamed of going to a great art college. Often described as the "golden apple" in her family, she excelled in her studies and extracurriculars. "Education was my escape from all the problems going on in my life," she said in an interview with Student Defense.
LaKesha's parents had lost their longtime family home during the Great Recession and were still struggling in the aftermath when she was accepted into a non-profit liberal arts college four hours from Chicago. But adjusting to a new environment was hard, and after a year and half LaKesha moved back to Chicago and enrolled at Malcolm X College, a community college near her home. Shortly after she moved back, tragedy struck LaKesha's family again, when her father passed away. After a few classes, she dropped out of school and decided to work. "I struggled my first two and a half years of college," LaKesha explained. "I knew I needed to get my degree, but there was so much going on in my life at that time."
Stuck in a low-paying job and still without a degree, LaKesha wanted to go to art school and finish her education. Unfortunately, her family could not afford to send her to a prestigious art college. As soon as she began researching scholarships online LaKesha was inundated with advertisements for the for-profit Illinois Institute of Art. She had heard of the school before and seen their advertisements. "[Their] commercials were on all the time," LaKesha recalled. "They appeared everywhere."
On a whim, LaKesha decided to request more information. Within an hour, the school called her and asked if she would be interested in a campus tour. She agreed. She took a train to downtown Chicago and was impressed with the campus, the school's facilities, and the location in River North, an upscale part of Downtown Chicago.
Illinois Institute of Art accepted LaKesha within days of her application. Once accepted, she was ushered to the financial aid office. The financial aid officer told her the Pell Grant would cover a portion of her tuition, but she would need to take out student loans to cover the rest. When LaKesha asked about scholarships, the officer told her the school couldn't give her one because she was a transfer student.
Surprised, she asked what else she could do to avoid taking out student loans, but the officer explained that she didn't need to worry. Taking out student loans would be worth it. "Everything they said was quick and always made you think you were making the right decision," LaKesha recalled. Feeling confident in herself and believing that she could finish her degree quickly, she and her mother agreed to take out student loans so she could enroll.
However, once classes started, LaKesha began noticing warning signs. She was disappointed by the quality of teaching and coursework. She heard of similar challenges in other departments, and she was alarmed by how many students dropped out after just a few terms. Having already left two other schools, LaKesha was determined to make the best of her situation and finish her degree. As LaKesha continued, though, so did the red flags.
In late 2017 an organization called Dream Center bought the school, promising a better, more affordable education.
By early 2018, things hadn't improved. The school's president left suddenly, and staff and instructors disappeared, too. In the summer of 2018, the school told LaKesha and her classmates that it had lost its accreditation. It wasn't until weeks later that she learned the school had actually lost accreditation six months earlier without telling students.
When LaKesha and her fellow classmates confronted the school's administration about the accreditation, they told them not to worry. Two weeks later, the school suddenly announced that it would be ceasing new student enrollment and closing at the end of the year, giving current students the option to transfer to another school or finish their studies if they were close to graduating. By that point, LaKesha had had enough and decided to take the transfer option, which set her graduation back an entire semester. She estimates that she and her mother will have over $70,000 in student loans to repay once she graduates.
Student Defense's Involvement:
Student Defense filed Infusino v. DeVos, a class action that challenged the Department of Education's illegal support of the Illinois Institute of Art and other schools owned by the Dream Center. The schools became ineligible for federal financial aid funds after they lost their accreditation, but the Department of Education allowed students to incur debt for unaccredited credits and degrees. In November 2019, the Department announced it would cancel millions of dollars in debt incurred by Student Defense clients and class members, including LaKesha. The $11 million cancelled and refunded represented all loans taken out after the schools lost accreditation in January 2018.