"When you come from nothing, it's hard to know who to trust."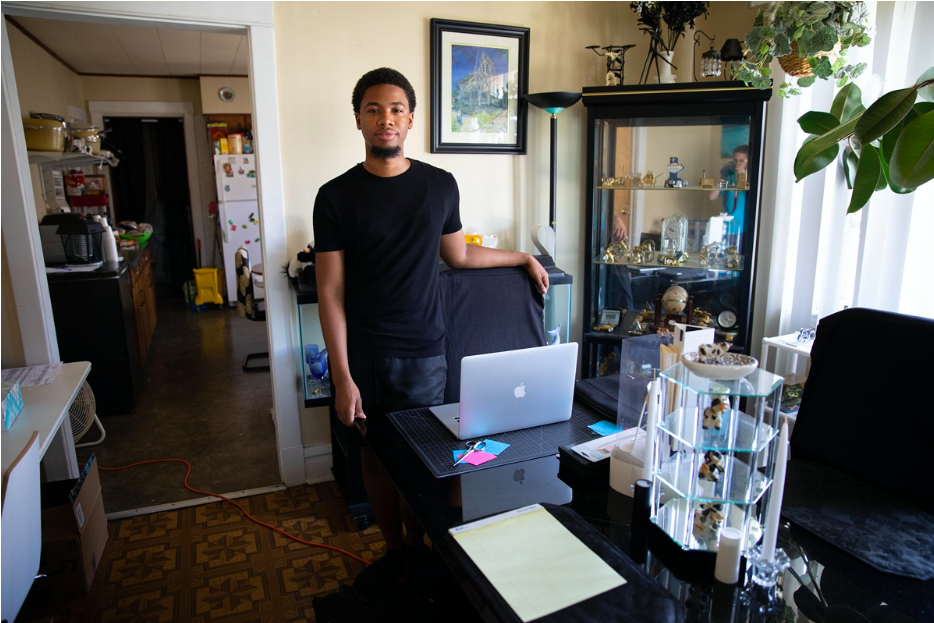 Emmanuel Dunagan, The Illinois Institute of Art in Chicago, Illinois
Emmanuel Dunagan started drawing at a young age. Often alone, the art kept him occupied. Emmanuel especially loved drawing animals, poring over his mother's nature books for his next subject and dreaming of a future in art school. As an LGBTQ person, Emmanuel found navigating high school difficult, but his passion for illustration never wavered.
When he graduated, Emmanuel explored Chicago's established art colleges, but quickly realized that his family would not be able to afford tuition, even with the help of grants and scholarships. Heartbroken, but not defeated, Emmanuel found an hourly job, began saving money, and enrolled in the College of DuPage, a local community college.
At the time, Emmanuel was familiar with the Illinois Institute of Art, a for-profit college with a campus in downtown Chicago. He had seen their commercials on TV; the school visited his high school for college fairs; he even attended an open house. And the school took notice of Emmanuel, too. "They would call me all the time and try to convince me to leave the College of DuPage," Emmanuel says. "But I knew I had to finish my degree before I could even begin to think about going there. I didn't come from a lot, so it was hard for me to make a four-year commitment to a school when I didn't even know what my situation was going to be like the following week."
By the time Emmanuel had earned an associate's degree, he felt more confident about pursuing a four-year degree. He decided to call the Illinois Institute of Art, and the school quickly scheduled a campus tour. Emmanuel was impressed with the school's downtown location and remembers thinking that the location meant "it [had] to be great."
Anxious to prove he could excel, Emmanuel brought his entire art portfolio to show the school's recruiter. And it worked: just days later, Emmanuel was accepted into the illustration and design program. But it wasn't long before his dream turned to a nightmare. The warning signs started to appear as soon as classes began. Outdated facilities. Woefully unprepared classmates. "It wasn't long before I realized the school was just bringing in students for money," he recalls.
But Emmanuel was trapped. He couldn't afford to transfer to another school, and dropping out would mean having to pay back tens of thousands in student loans without a bachelor's degree.
"I wasn't blind or naive to what was going on. I was trapped by my situation. I kept telling myself 'just finish, just finish,' and then figure it out."
By Emmanuel's senior year, the Art Institute had a new owner and a plan to become a non-profit college. The school told students that the conversion would cut student costs and improve campus lives. But the promises and optimism were short-lived.
In June 2018, Emmanuel was two classes away from graduating when everything came crashing down. He was in between terms when he checked his email and found a message from the school's administration stating that the school had lost its accreditation. In fact, the school had lost its accreditation six months earlier. The situation was dire. All of the classes Emmanuel had taken that year were worthless.
Two weeks later, Emmanuel and his classmates received another email from the school—this time the Art Institute announced that it was ceasing new student enrollment and shutting down at the end of the year. "I just felt like a rug was pulled out from under me," he says.
Emmanuel discussing the impact of his job prospects after the Art Institute's collapse:
In the weeks after, the campus was in total disarray as students panicked about what they could do or where they could go. Emmanuel tried consoling his friends, many of whom still had years of college ahead of them. With just two classes left, Emmanuel chose the best of his bad options—finishing his tarnished degree just before the school shuttered permanently.
Student Defense sued the Illinois Institute of Art and its parent company in December 2018, for hiding the loss of accreditation from students. The lawsuit, Dunagan v. Illinois Institute of Art, remains ongoing. Student Defense also sued the U.S. Department of Education for illegally propping up the Illinois Institute of Art and other Dream Center schools, and obtained $11 million in cancellations and refunds for the loans Emmanuel and other students took out for attendance after the schools lost their accreditation.
Emmanuel will forever be locked into an unaccredited degree from the Illinois Institute of Art, which cost over $80,000. In the final moments of his interview with Student Defense, Emmanuel reflected on life in the aftermath of a college collapse, "I don't think everyone knows what they want to do after college. But it's worse for me because I now have to wonder whether my degree is even worth anything."