"It's hard to put into words how betrayed I feel."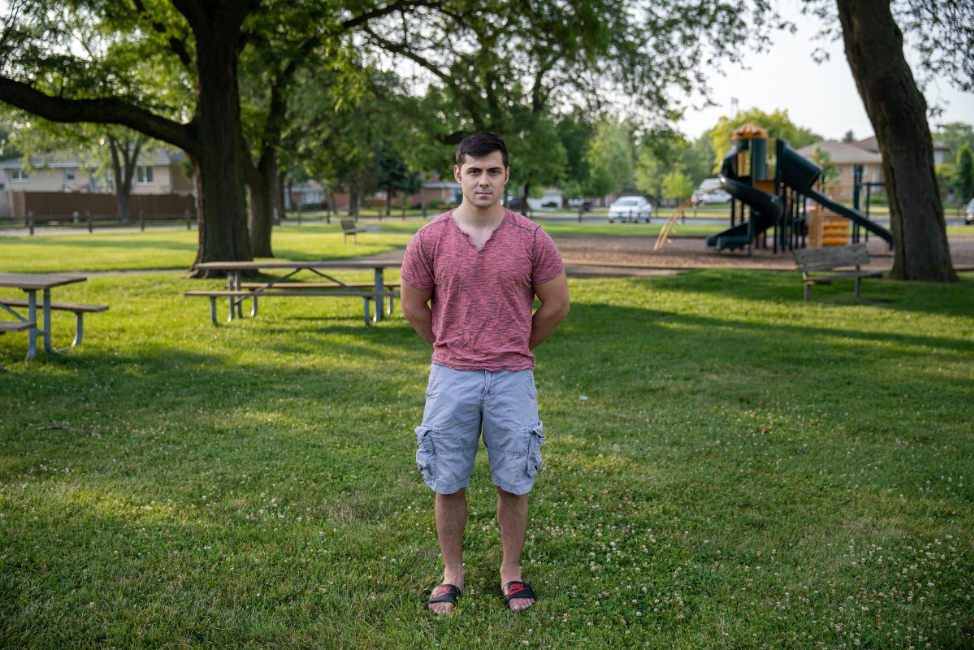 Robert J. ("RJ") Infusino, The Illinois Institute of Art in Schaumburg, Illinois
School never came easy for RJ Infusino. But one subject always ignited his passion: media production. As a kid, RJ would make short movies with his friends. In high school, he fell in love with audio engineering and dreamed of a career making video games.
In his senior year, RJ applied to the Illinois Institute of Art's Schaumburg campus, a nearby for-profit school. During a campus tour, a recruiter emphasized the school's industry connections, promising a meaningful internship that would jumpstart his career. Convinced that the school would set him on a path to success, RJ decided to enroll.
As soon as RJ was on campus, though, the school's promises started to unravel. Classes he'd been told about during the campus tour, including a course on sound design for video games, simply didn't exist. And the one that did fell far short of expectations. "I had to do a lot of self-teaching," RJ recalls. When it came time for his industry internship, he was placed in a local insurance company's sales office.
RJ thought about leaving the school, but, he figured, he had already invested in his education. He decided to put his head down and focus on his studies. He started helping new students understand audio software and partnered with classmates on out-of-school projects.
But things kept getting worse. By the end of 2017, many of RJs instructors and administrators had left the school. Replacement instructors were assigned classes with no guidance about what they were supposed to teach.
In the summer of 2018, RJ was in between school terms when he checked his email and read a message from the school saying it had lost its accreditation. "That was one of the worst moments of my life," RJ recalled. "It felt like the entire world was coming down around me, like everything I had worked so hard for was falling apart."
When RJ and his fellow classmates returned to campus after break, the campus was in disarray. School officials kept telling students not to worry and that everything would be sorted out. A few weeks later, news broke that the school had actually lost its accreditation six months earlier, but never told its students. All the classes RJ had taken in 2018 were unaccredited. "It's hard to put into words how betrayed I felt and still feel to this day," RJ told Student Defense.
RJ was left to choose between two bad options. Because the school was closing, he could apply to have his federal loans discharged. However, that would not repay the tens of thousands of dollars his family had paid out-of-pocket, and it would wipe out all the credits he had earned. Or he could transfer to another college, but his options were deeply limited by the school's loss of accreditation and the narrow scope of his program.
After careful consideration, and with a promise of a $5,000 tuition grant from the Institute of Art, RJ decided to transfer to the for-profit Full Sail University, even though it would set his graduation date back by almost a year. Shortly after he enrolled at Full Sail, the Illinois Institute of Art reneged on the promised grant.
Despite the setbacks, RJ graduated from Full Sail in March 2020, and he remains hopeful he can still follow his dream of designing sound for video games. But the Illinois Institute of Art's deceptions have exacted a steep price. RJ borrowed more than $20,000 during his time at the school, and he is starting his career nearly a year later than he intended.
Student Defense's Involvement:
RJ is the lead plaintiff in the lawsuit Infusino v. DeVos, a class action that challenged the Department of Education's illegal support of the Illinois Institute of Art and other schools owned by the Dream Center. The schools became ineligible for federal financial aid funds after they lost their accreditation, but the Department of Education allowed students to incur debt for unaccredited credits and degrees. In November 2019, the Department announced it would cancel millions of dollars in debt incurred by Student Defense clients and class members, including RJ. The $11 million cancelled and refunded represented all loans taken out after the schools lost accreditation in January 2018.
In May 2019, RJ testified in an oversight hearing in the House of Representatives, describing how he was affected by his school's lies and the Department of Education's inaction.